Summary:
Se7enbites is the new Southern Food & Dessert restaurant located on 617 Primrose Dr, Orlando, FL 32803. Here at RealtorTalk with Brendan Sanford we wanted to interview Trina, the owner of Se7enbites, to better understand why so many families are drawn to her amazing restaurant.
Describe your business:
We are a local business – my wife and I own the business together for a little over three years now. We specialize in Southern comfort food and nostalgic sweets so all the things your grandmother used to make but with a modern twist.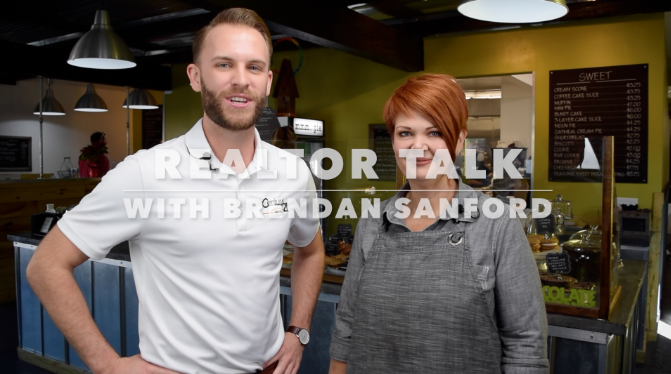 What made you decide to open this business?
We initially were a supplier that made desserts for other restaurants and realized we needed extra space so we decided to open a store front called Se7enbits. This has really blossomed into a really nice family owned business.
What has surprised you most when owning a business?
We started growing our business through social media and mouth to mouth customers – we seldom use any advertisement.
How would you describe the atmosphere of your business?
I like to think of it as you come in here and it's like coming home. Come into grandma's house. We have a huge space to fit everyone's families – this also including our outside porch area.
What would your customers say they love most about your business?
I think a lot of our customers love our family recipes because they are recipes everyone knows already. Take for instance our famous hand bread pudding. It's something my grandmother used to make us for Christmas morning breakfast. I have a grandma, like many grandmas, who likes to feed you. She was the quintessential 40's housewife and I think that translates into the food we have here. The majority of recipes we have taken and tweaked a little from her. The Bread Pudding is really my favorite because it reminds me of my grandmother.
Do you have any exciting plans for the future that you want customers to know about?
We just expanded our restaurant and moved to our new location on Primrose Dr. It is an individual building that includes plenty of parking spaces and outdoor dining space. When you get here you won't be able to miss our outstanding lime green pie sign painted on our building. We also have monthly social events so watch our Facebook for more details.
Who are some of your business idols and role models? And why?
My grandmother! She is my role model because she inspires me to treat our customers like my own family. I also love the social media network because it connects us to all of our customers!
Facebook: Social Media Page
YouTube: Interview